As the project comes to an end, PRO-ACT partners worked together remotely to demonstrate individual and cooperative robots
After 27 months of intensive work by project partners, the PRO-ACT project comes to an end in April 2021. Partners were not able to meet together at the same location for the final demonstration of the developed solutions and planned scenarios, due to the health and travel regulations all over Europe.

This required the consortium to quickly adapt the scope and scenarios of the final demonstration to be set up across 4 different countries and locations across Europe in March 2021. Efficient planning , communications and remote support strategies had to be defined and implemented, as complex and simultaneous robotics control procedures with multiple robots had to be performed.
In the Indoor Lunar Hall at DFKI, Germany and at PIAP-Space, Poland, Mantis and Veles simultaneously and autonomously explored their lunar analogue terrain by mapping the environment cooperatively, while multi-robot planners and control stations from GMV (Spain) and Space Applications Services (Belgium) coordinated and monitored their operations respectively.
Veles managed to demonstrate the capabilities of preparing the terrain by flattening uneven areas with its grading blade. The Veles robotic arm is equipped with the HOTDOCK standard interface, that allows it to quickly change the end effector tools such as the gripper and a shovel. These terrain and manipulation capabilities are an important step to prepare a future lunar outpost.
Additionally the robots managed to experimentally manipulate objects in their local analogues using the perception with their perception and manipulation planning capabilities.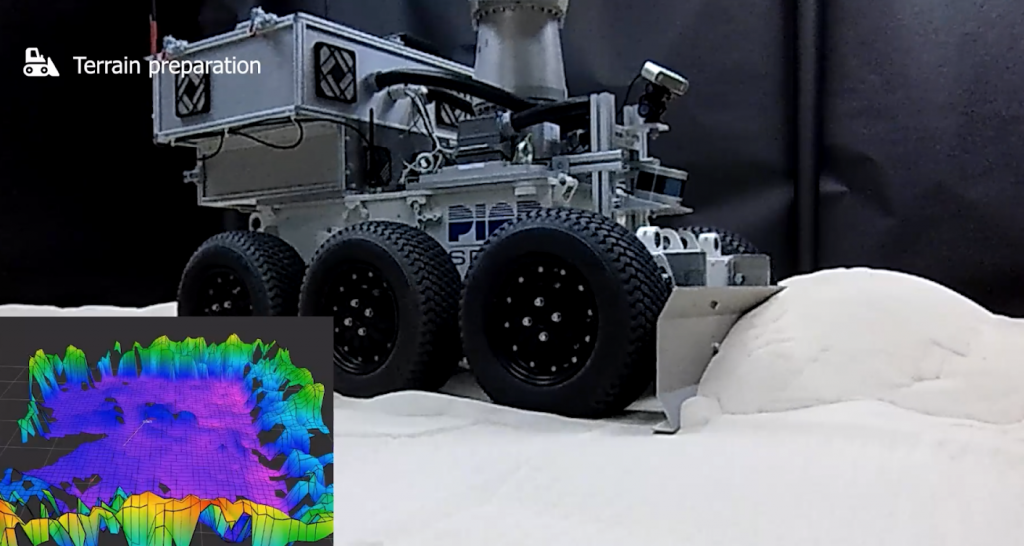 At AVS facilities In Spain, the Mobile Gantry from AVS was controlled remotely from Space Applications Services in Belgium. This demo focused on commanding its deployment from a stowed configuration and to control the motion of the end effector for moving large objects..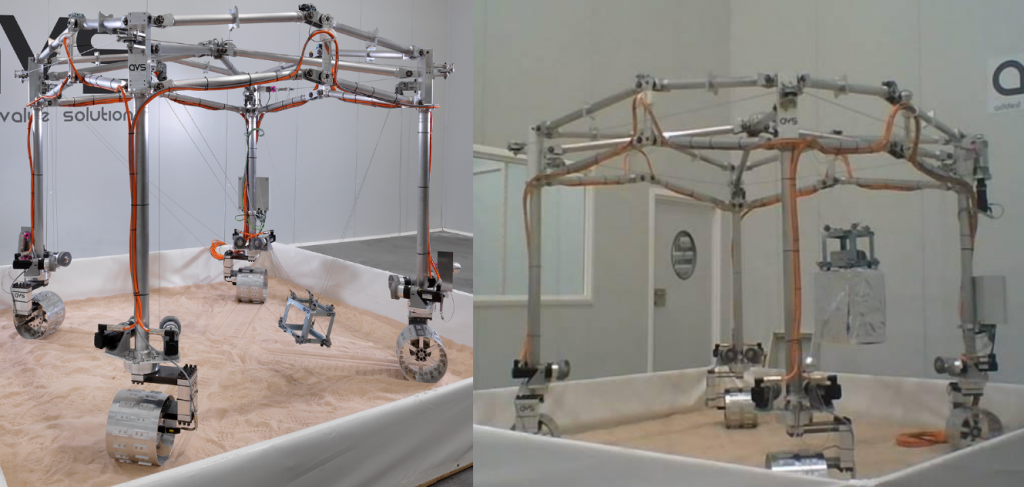 Lastly, at LAAS-CNRS laboratories in France, the collaborative algorithms for manipulation and planning were demonstrated using two identical robotic arms. The two manipulators were able to demonstrate the planning and control strategies for manipulating an object together while adapting to external perturbations by sensing the forces exerted on their end effectors.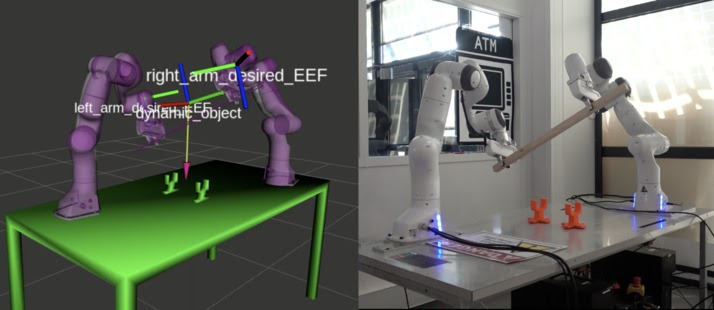 As a concluding note, the project had to overcome significant challenges by working on the project remotely for most of 2020 and in 2021. The strong collaboration among partners with remote support from robot providers, enabled the final demonstration to be performed remotely and effectively. The project managed to achieve most of its major technical goals.